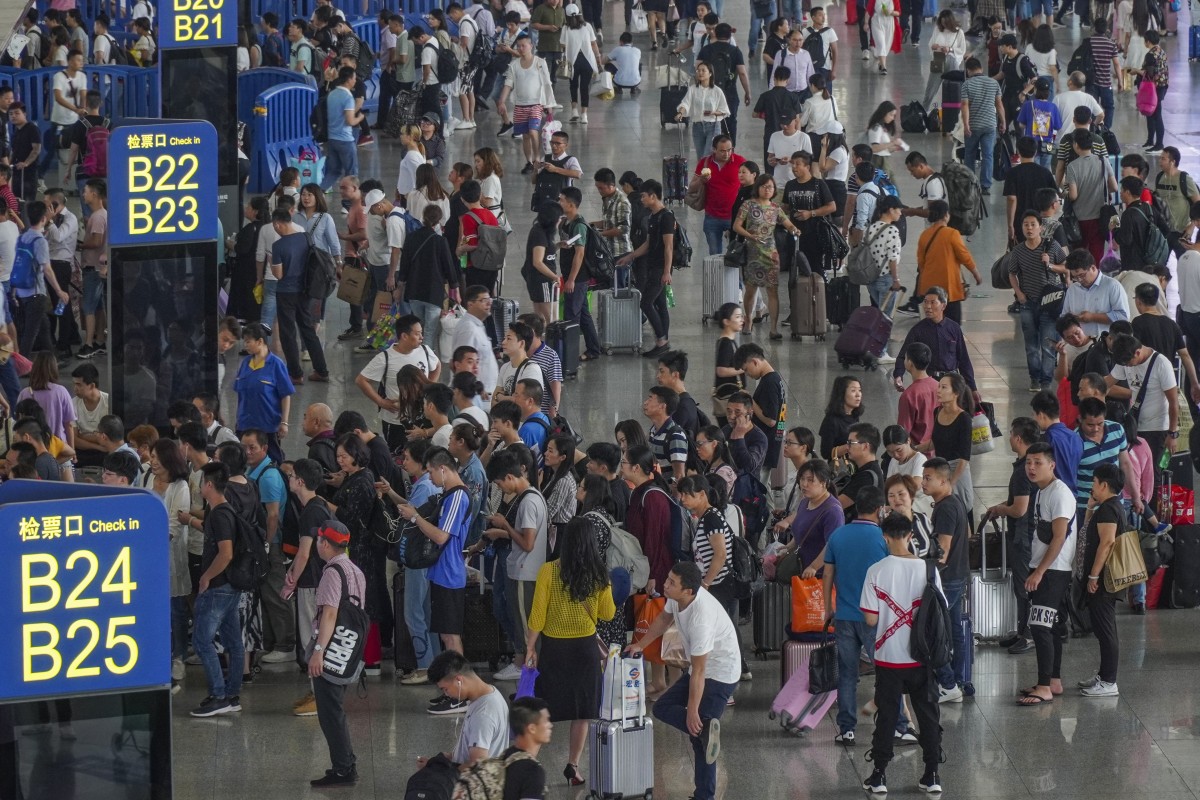 Trips for some train travellers were marred by others staying on the services beyond their stops. Photo: Roy Issa
The company that runs China's railways apologised on Saturday for the chaotic scenes on trains and at stations during this year's extended Labour Day holiday, but said it would also consider how passengers who contributed to the disruption should be punished.
An estimated 70 million people took rail trips between Tuesday and Saturday, with the peak coming on Wednesday, when a record 17 million passengers boarded trains across the country on May 1.
However, the huge crowds created big problems for operator China Railway Corporation (CRC).
"Some unpleasant situations occurred and upset some passengers. We hereby apologise for that," state broadcaster China Central Television quoted an unidentified company official as saying.
Those cases included ticket-holding passengers being stopped from boarding trains between the east China cities of Nanjing and Zibo due to severe overcrowding, Beijing Youth Daily reported.
It was a similar story for ticket-holders for the train to Huaishan from Nanjing, who were told it too was full.
CRC blamed the situation on passengers buying tickets for short trips but staying on the train beyond their stops.
"Staff couldn't check all the tickets one by one," a station worker was quoted as saying in the newspaper report. "For safety reasons, passengers [trying to board] at later stations were refunded."
In the future, the company would try to have more trains running on popular routes over the holidays and improve checks to ensure passengers had the correct tickets for travel, the person said.
But it would also consult the government and the public on whether people who abused the ticketing system should be punished under the social credit system, which could result in them being banned from travelling by train in the future, he said.
China's roads jammed as millions take Labour Day holiday
The statement echoed some of the comments made by users of Weibo – China's Twitter-like platform – about the behaviour of a female passenger travelling on a high-speed train from Beijing to Wuhan on Friday.
When asked to show her ticket by a conductor, the woman refused and berated the official and pushed her away. The scene was captured on camera and uploaded to the social media site.
"This is a serious disturbance of public transport order and should be punished by law," a Weibo user said.
"Can this woman be banned from taking high-speed trains forever?" wrote another.
While the May 1 Labour Day holiday traditionally lasts just 24 hours, the government announced on March 22 that this year it would be extended to four days. The move was mostly driven by economic reasons and the desire to boost consumer spending.
["source=scmp"]